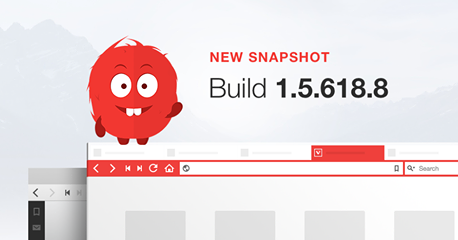 Bu haftaki derleme ile sekmeleri pencereler arasında taşıyabilirsiniz. Diğer tarayıcıların aksine sadece sekmeleri değil hem sekme gruplarını hem de seçili sekmeleri de taşıyabilirsiniz. Yine ayrıca bu işlemi menü aracılığı ile de yapabilirsiniz.
Bunun yanı sıra temaların performansları ile ilgili de performans geliştirmeleri yapıldı. Kabaca %400'lük gibi bir iyileştirme sağlandı :) Bu elbette tarayıcının açılış zamanını da iyileştiriyor. Eğer daha evvel temaları demediyseniz tam vakti diyebiliriz.
İndirme Adresleri (1.5.618.8)
Değişiklikler
[New Feature] Tab Dragging for Everyone!
[Windows] Minimize button not vertically centered on Windows 10 (VB-21362)
[Mac] On 10.12 Sierra HTML5 Audio and Video playback can cause a crash (VB-21605)
[Regression] target="_blank" + redirect leads to a blank page (VB-21368)
[Regression] Page zoom changed to UI zoom upon moving tabs between windows (VB-21220)
[Regression] [Keyboard] Some keyboard shortcuts no longer work with non-US keyboard layouts (VB-20707)
[Regression] [Search Field] Pressing tab in search field doesn't close dropdown (VB-21525)
[Regression] [URL] Old URL visible when loading new URL (VB-21331)
[Regression] [URL] Progress data disappeared too soon (VB-21775)
[Regression] [URL] Pressing Esc does not stop loading the page (VB-19290)
[Bookmarks] Bookmark bar folder must be correct when updating store (VB-21760)
[Extensions] Toolbar icons from extensions are blurry on HIDPI Displays (VB-12476)
[Extensions] New tabs created from extension-hosts does not work (VB-21522)
[Notes] Newly added note lost after Esc during search (VB-21718)
[Notes] Not possible to lookup notes from a specific URL in panel (VB-16920)
[Privacy] Search field suggests still sends requests even though it is off (VB-21521)
[Search field] Search suggest shows wrong suggest after search engine switch (VB-21535)
[Search field] When pressing Alt+Enter the dropdown keeps open (VB-21523)
[Search field] [URL] Add support for Yandex search suggest (tr, ru, be, uk) (VB-14070)
[Speed Dial] Add support for "text/uri-list" drops in Speed Dial folders and Speed Dial '+' button (VB-21511)
[Themes] Themes performance can be improved by 400% (VB-21378)
[Themes] Scheduling timeline: Entry on list not visible and scheduled times cannot be deleted (VB-21175)
[Themes] Deleting a theme requires switching to it first (VB-21251)
[URL] Auto complete not consistent (VB-21490)
[URL] Auto complete too slow when suggest is enabled (VB-21438)
Top left window button gets focus marker and keeps it (menu bar mode) (VB-21479)
Settings don't work properly with an invalid bookmarks bar folder (VB-21410)
Open session dialog bad sorting and cut text (VB-21296)
Not: Bu sürümle ilgili tüm olumlu/olumsuz görüşlerinizi buradan yahut Vivaldi Türkçe Forumları üzerinden bizlere iletebilirsiniz.