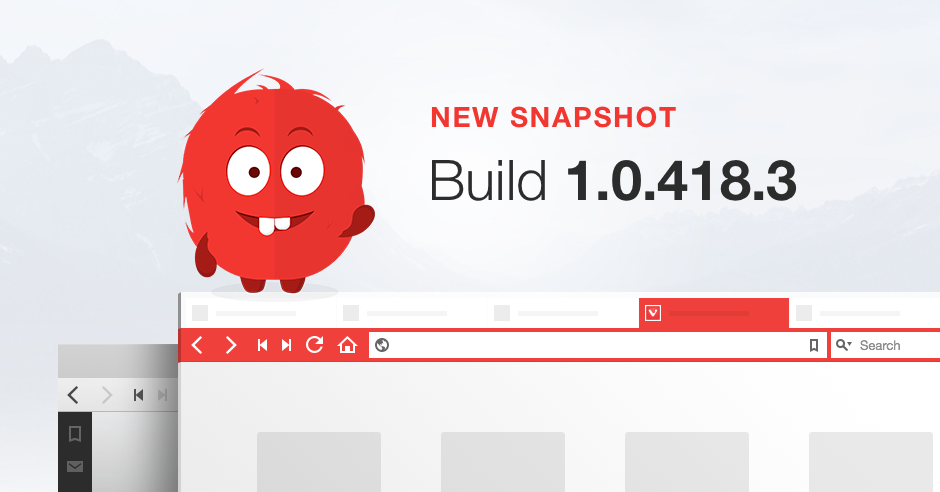 Beta 3'ü de geride bıraktık ve aynı hızla devam ediyoruz. Yeni derlemede öne çıkanları aşağıda bulabilirsiniz. Özellikle MAC kullanıcılarının sevineceğini söyleyebiliriz. MAC'in olmazsa olmazı pinch-to-zoom özelliği artık destekleniyor...
Yer imleri çubuğu için Ctrl, Shift ve fare orta tuş desteği eklendi.
Parmak hareketi ile sayfa yakınlaştırma/uzaklaştırma özelliği olarak tanımlayabileceğimiz pinch-to-zoom desteği eklendi.
Linux platformlar için adres alanındaki fare orta tuşu ile alakalı sorun giderildi.
Temalar arası geçiş için klavye kısayolu tanımlayabilirsiniz artık.
Hızlı ileri ve hızlı geri özelliği ile ilgili birçok sorun giderildi.
Liste elbette bununla sınırlı değil, çok daha fazlası için sayfanın biraz daha altına bakmanız gerekecek :)
İndirme Adresleri (1.0.418.3)
Windows: İndir 32bit | İndir 64bit (deneysel)
Mac (10.7+): İndir
Linux Deb: İndir 64bit | İndir 32bit
Linux RPM: İndir 64bit | [İndir 32bit](https://vivaldi.com/download/download.php?f=vivaldi-snapshot-1.0.418.3 -1.i386.rpm)
Değişiklikler
[Windows] Alt mouse gesture opens Vivaldi menu (VB-12667)
[Windows] Default browser setting broken on Windows 10 (VB-13743)
[Windows] The taskbar icon is missing on Windows 10 (VB-12963)
[Windows][Linux] Highlight on main menu bar missing when menu is open (VB-13292)
[Linux] Clipboard data appears in the address field when open bookmark by mouse wheel (VB-9095)
[Linux] Clipboard data inserted in address bar field when closing the tab by middle click (VB-10642)
[Linux] Middle-clicking a speed dial also paste in URL (VB-7810)
[Linux] "Third click" main menu bug (VB-13265)
[Mac] Implement OSX pinch two finger to zoom feature (VB-5369)
[Mac] Let Mac use ⌘ key instead of Ctrl key in bookmarks menus (VB-13601)
[Mac] Quit menu item is wrongly labelled (VB-13332)
[Regression] Selected state of Trash is wrong (light UI) (VB-13588)
Add a mapable keyboard shortcut to toggle between Light and Dark UI (VB-13693)
Add Feature to autocomplete on title in bookmarks (VB-11405)
Add Fast Forward and Rewind to Quick Command and keyboard shortcut list (VB-13304)
Anchor create item remains after turning off edit field in bookmark panel (VB-13890)
Autocomplete does not un-highlight in old tab and URL field in new tab is resetted (VB-13390)
Bookmark Bar URL drag-over spacing not cleared (VB-12783)
Bookmark folder appears as bookmark link when searching in Bookmarks panel (VB-3220)
Bookmark is slow with many bookmarks (VB-12767)
Bookmark panel edit mode stops working after "URL cannot be empty" message (VB-13120)
Can't middle click links inside a folder on the bookmarks bar to open in another tab (VB-4355)
Close tab menu item does not work (VB-13607)
Context menus will not open if an item title is missing (VB-13742)
Ctrl+Shift+V double-pastes (VB-3177)
Custom search engines missing favicons (VB-13648)
Esc don't leave address bar (VB-4880)
Fast forward does not get activated on Google search results in language other than English (VB-4622)
Focus in search field in settings (VB-13072)
Left clicks on bookmarks in bookmark bar are ignored (VB-13634)
Loudspeaker symbol or favicon prevents clicking on close X with many tabs: more work needed (VB-8998)
Minimizing a Vivaldi window with multiple windows re-opens the window instantly (VB-13595)
Notes panel not keyboard accessible (VB-10240)
Page is not focused after paste and go (VB-13694)
Removed fast forward on internal pages (VB-13592)
Rewind lost on startup (VB-12301)
Settings page titles are inconsistent (VB-13590)
Shortcuts with non-letters not displayed in menus (VB-13212)
Show context menu per tab in a tab stack (VB-13110)
Tab text tooltips missing with thumbnails turned off (VB-10410)
Unable to load page after switching tabs (VB-13739)
Unicode doesn't work in urlfield (VB-13047)
URL input autocomplete & related fixes (VB-11083)
Vivaldi freezes when the setting tab tilled with any other page in tab stack (VB-11409)
When copying the URL from the address field, it will drop the protocol in some cases (VB-13836)
With many Speed Dial groups, History and Bookmarks buttons hidden in overflow (VB-13201)
Wrong Speed Dial Item context menu - Open in New Tab opens in Background tab (VB-9287)
Wrong URL in add panel dialog (VB-13688)
Sürüm ile ilgili yayınlanan yazıya ve tüm değişiklik listesine buradan ulaşabilirsiniz.
Not: Bu sürümle ilgili tüm olumlu/olumsuz görüşlerinizi buradan yahut Vivaldi Türkçe Forumları üzerinden bizlere iletebilirsiniz.